Happy and Healthy Crew
At East Borough, we all learn about how to stay happy and healthy through our Personal Development curriculum learning. In addition to this, Mrs Smith and Mrs Lewis started up the 'Happy and Healthy Crew' to help some pupils learn more about where our food comes from, how to create healthy, fun meals and how exercise helps us stay happy. The children have been to an allotment to pick some of their own food, made healthy meals and taken recipes home to make. Please see the newsletters below for further information.
Children from year 4 & 5 have the opportunity to join the Happy & Healthy Sports Crew. These children develop and practise an active game at the beginning of the week and then deliver this to the Years 1 and 2 children during the week at lunchtimes. This has been popular with the younger children who love taking part in the activities that Years 4 and 5 organise.
---
TERM 4: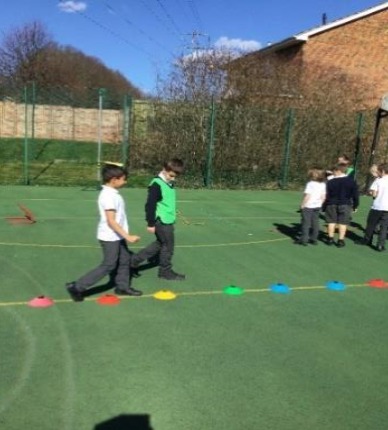 The Happy and Healthy Sports Crew have been working towards their Gold Award, by designing their own activities for year 1, 2 and 3 children. They have been doing a great job and helping the children to keep active at lunch time with their fitness games.
---
TERM 3: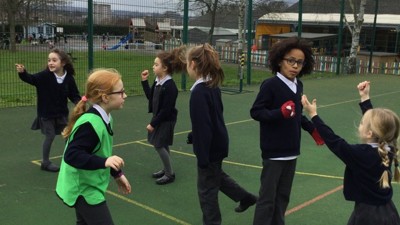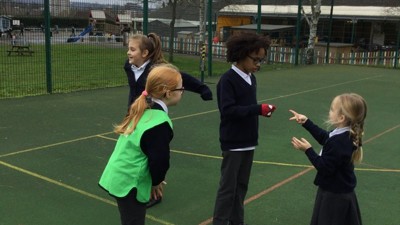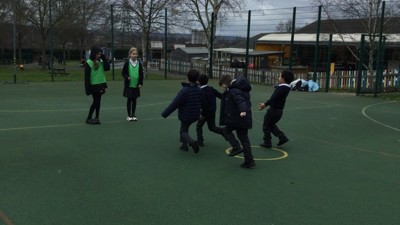 The Happy and Healthy Crew at East Borough have been working so well as a team this term to provide fun activities for the year 1 and 2 children at lunchtime. They meet each week with Mrs Smith to plan the activities and then lead and support the younger children in fun games, with a focus on keeping active and healthy.
The sports crew have also been working to complete a series of personal challenges, such as leading a warm-up for their families and they have now all achieved their 'Bronze' Crew award!
Well done to all the children from the Crew who have shown such fantastic commitment and enthusiasm this term.
The Sports crew are: Franc, Abiskar, Zara, Mahtab, Bahir, Afonso, Thavthisa, Dominic, Elizabeth, Sapphire, Harriet, Alfie, Jessica and Tilly
---
TERM 1: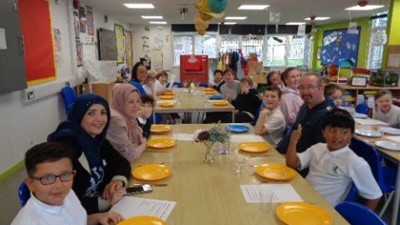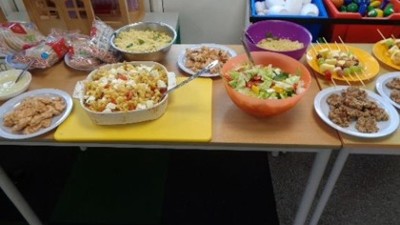 On Tuesday 19 October, the Happy and Healthy Crew hosted a special lunch for their families.
They walked to Sainsbury's and used their shopping lists to find all the ingredients they needed. They then came back to school and worked together as a team to prepare the meal they had carefully planned to include as many healthy ingredients as possible. There were lots of jobs to do, including chopping vegetables, cooking pasta and couscous, marinating chicken, preparing fruit kebabs, making dressings, washing up and setting the table.
Their families arrived at lunchtime and they were delighted with the meal the children had prepared so beautifully for them. Well done Happy and Healthy Crew!