Science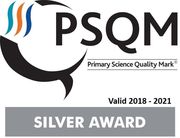 "It is an amazing achievement and we are so proud of the work and effort everyone has put into raising the standard of teaching and learning of science across the school. We have learnt so much through the PSQM process. We're looking forward to continuing our journey to improving the teaching and learning of science in the school and bringing even more exciting science learning to our children."
Welcome to the East Borough Primary School Science page! Here you will find photos and information about the Science teaching and learning around our school. Science is a subject we really enjoy at East Borough!
Science Curriculum
We follow the Kent Science Scheme which ensures that we cover all National Curriculum objectives and that our Science skills progress throughout the year groups. Please click here to view our overview of subjects covered.
Science Opportunities
We are lucky enough to have Vinters Valley Nature Reserve on our doorstep and we make the most of this; our children can experience nature and changes in the seasons at first hand. We also have our own Forest School which every year group takes advantage of for Science. East Borough has close links to Invicta Grammar School and our children are fortunate enough to visit their laboratories and experience secondary Science and all of the facilities and equipment which they have to offer.