Enrichment
5 Times Reading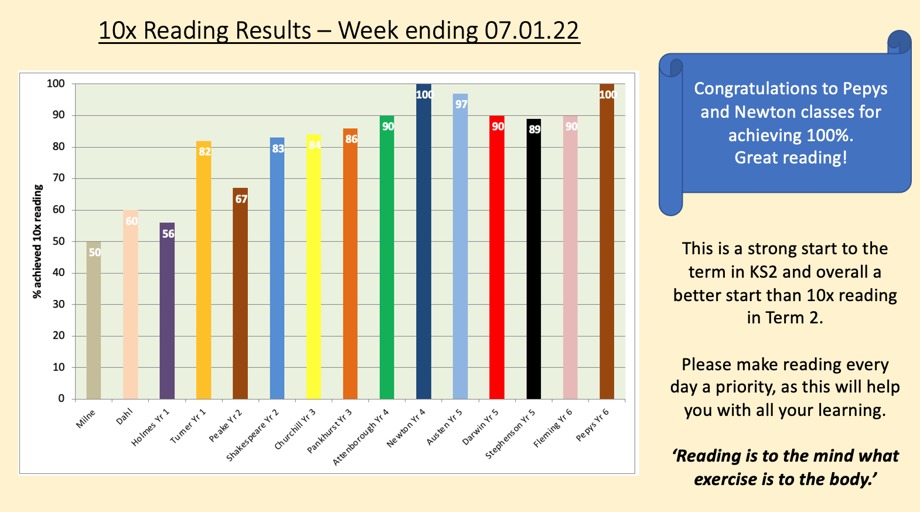 ---
Summer Reading Challenge
Over the summer holidays, we would like to make sure all children continue to read at home, so we are launching a summer reading challenge. - click here for the link. Not only will the children be taking part, but our school staff will also be reading children's books to broaden their knowledge and enjoyment of them and help them to make book recommendations next year. All reading will be showcased on Padlet, using pictures of book covers and some information about the book.
Children and staff are challenged to read a minimum of three books from the following categories:
a story set in a different country
a story with a female heroine
one with a character with a disability
a true story
a historical novel
a book that makes you laugh
an information book
a story with an environmental message
a story with an anti-bullying message
a story about immigration
Once your child has read a book, they should take a photo of the book cover and write a little bit about it, including why they liked it. This should then be uploaded to Padlet using the details in the attached document. This information will also be available on our school website. Please encourage your child to login to Padlet regularly throughout the holidays so they can see what others have been reading and be inspired to read even more.
If you are stuck for ideas, the following website has lots of suggestions, including suggested reading lists by age:
https://www.booksfortopics.com/
Thank you for your ongoing support in promoting Reading at home.
General Info
Please click on the links below to view information about reading at East Borough.
5 Times Reading Information Overview
Parent Reading Workshop (Yrs 1-5)
EYFS Teacher Recommended Reads
Year 1 Teacher Recommended Reads
Year 2 Teacher Recommended Reads
Year 3 Teacher Recommended Reads
Year 4 Teacher Recommended Reads
Year 5 Teacher Recommended Reads
Year 6 Teacher Recommended Reads
Term 5: Winners of our "Design Your Own Bedtime Pyjamas" Competition
Click here to find out the winners and their designs for our "Design your own Bedtime Pyjamas" Competition.